It has been a challenging year.  After selling my business, the transition was rocky and although complete, still a lot of issues remain.  As for new years goals, this year I am opting out of "new years resolutions" because they are largely a joke.  This year, instead I have opted for 90 days, or 13-week intensive "MAPS", which is a "Massive Action Plan" for the next 90 days.  My goals include professional, financial and health. More on that later….
After Christmas, I decided to return to one of our favorite spots, Big Bend National Park here in Texas, which has some of the most dramatic scenery in the USA.   Being December, and in a desert, the weather was great.  It got in the 30s at night, but warmed up into the 70s during the day, making for great hiking weather.

It really is hard to put this place into words, the sheer size of it is incredible.   In fact, it is one of the most remote and largest national parks in the USA.   On top of that, it's one of the least visited, with a mere 350,000 visitors.  To put this in perspective, the nearest real town is Alpine Texas or Fort Stockton both of which are between 100-120 miles away.   So, needless to say, you don't go there for the day.
The park is on the border with Mexico and is so remote, there's a very long history of commerce and trade between the US and Mexico there.  Most are legal, but some aren't.  I've been going there for years and been fortunate enough to only encounter petty illegal trade, such as Jesus here, who sings for you when you buy some of his crafts,
The area serves as a stark reminder of the challenge of discussing a "wall" with Mexico.  In fact, here it seems simply absurd, if not impossible.  This picture is taken of the Rio Grand, along Santa Elena Canyon, one of three major canyons in the park which just how impractical such a proposition is.  My statement here is not political because we need trade and immigration to be legal.   My statement is just about practicality, usefulness, and cost.   This location is no picnic for the border patrol with literally hundreds of miles and no real roads to deal with. I really have no idea what a "wall" would accomplish here if it could even be built at all.  OK, rant over.
On left is Mexico, on the right the USA.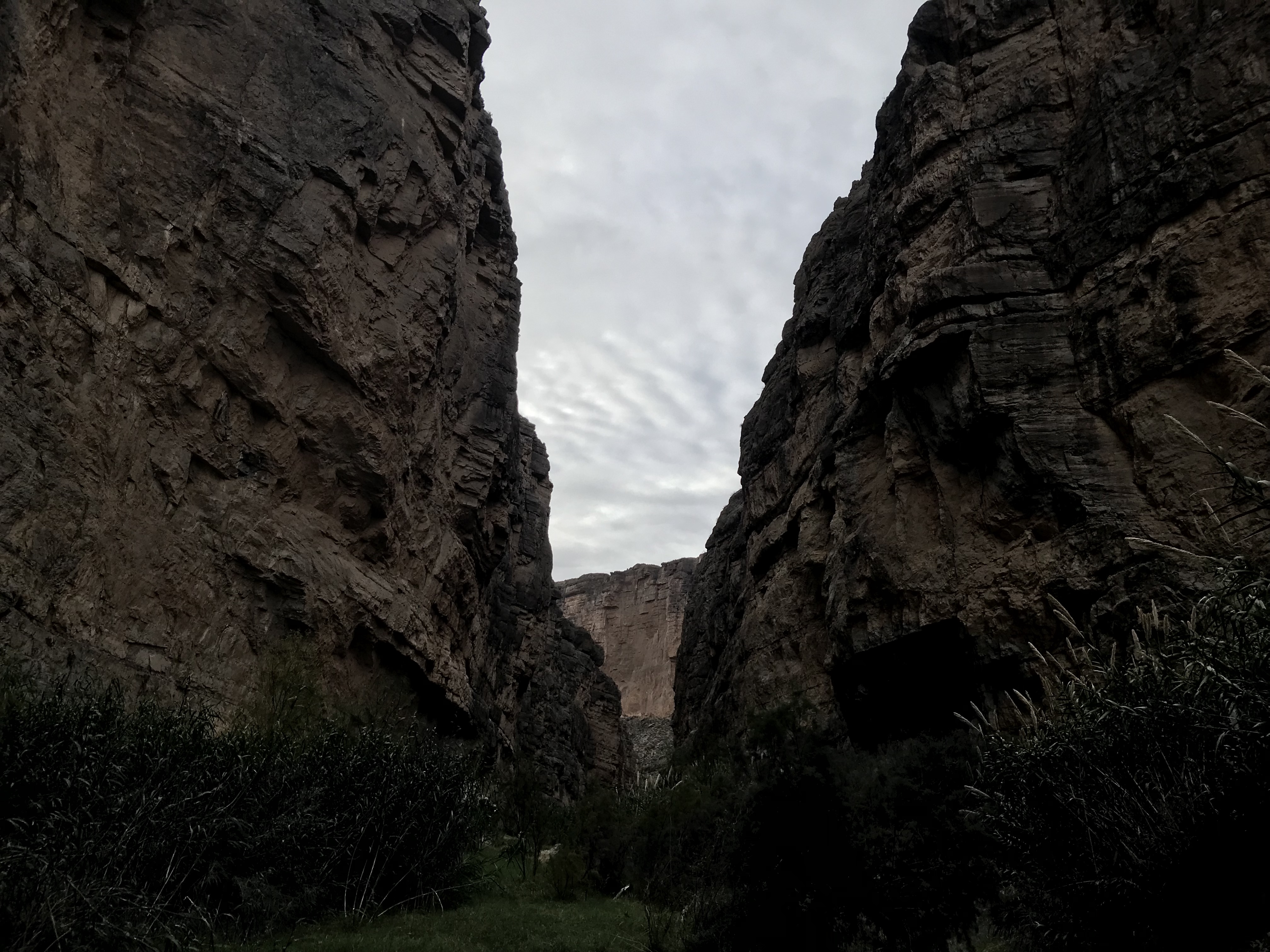 Not sure where you would place such a wall.  Even then, you're 100 miles from nowhere on both sides of the border.
But, remote as it is, it seems to find me when I am there and I want to come back over and over again.   My good friends go with me, tolerating the drive and the less-than-luxurious accommodations for it.
We finished off our trip with a 13+ Mile "Loop" to the "South Rim", the highest part of the Chisos Mountains, excluding Emory Peak which overlooks the southern sections of the park.  The day we were there, visibility was over 70 miles.  The hike is relatively easy but long.  I am in fairly good shape and it kicked my ass.  Take lots of water.  Being 52 probably had something to do with it kicking me around.
For more information on Big Bend, I recommend one of the many guidebooks but this one is essential.   Also, I HIGHLY recommend a full topographic map for the trip.  Links to both are available here.
As always, feel free to email or connect on Social Media.
Click on Links to Purchase from Amazon.com