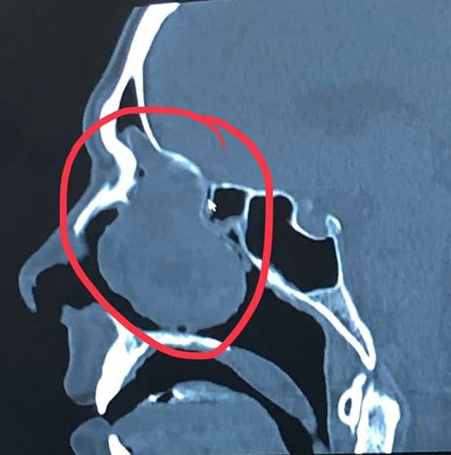 So two days after we buy a new property, my Dr. shows me a tumor in my nasal cavity the size of an avocado.
Yes, an avocado, in my head.  That explains a few things.
That moment, we will come back to.  But many people have experienced the moment when they see something that is often fatal, or the beginning of a potentially very long painful journey.  What I did know, and the doctor confirmed, is this was not good.
The local doctor comforted me that this was very likely something known as an "Inverted Papilloma" which is caused by a viral infection and fairly common.     This doctor had the wisdom to refer me over to the best surgical and doctor teams in the Dallas/Texas area at UT Southwestern Medical Center.
OK, fine.  I want this thing out.  Now.
But I will tell you, in that moment – I didn't experience fear, or panic, or anger or anything except gratitude.  You see at that moment, I truly had the understanding that every single day is a gift and who am I to complain about not getting frosting on my birthday cake …I was immediately grateful for all that I had and will have.   I can't describe it totally, and even if I did it's unlikely most will understand.
I don't know how this reaction will turn my life but there's a certainty, the world looks different today than it did before this moment.   I finally have an understanding of the reality that we all have. I'm ONLY here because HE wants me to be. I didn't do anything to earn being here.  It's a gift.
There is SO much evidence of God's love around us.   The prayers, the support, the care, the doctors, all of it.   He's everywhere. We just have to be willing to listen.
I'm definitely on a new path…not I just gotta figure out what it is.
Challenge accepted.
https://alsmiller.com/wp-content/uploads/2019/08/screen-shot-2019-08-18-at-2.09.18-am.png
455
451
Charlie
https://alsmiller.com/wp-content/uploads/2021/01/alsmiller.png
Charlie
2019-07-15 02:12:32
2019-07-15 02:12:32
Well, that wasn't MY plan